Experiments

02-13-16 HYD-001
02-17-16 HYD-002

2015-2016 EPICS-NASA Research Team Members

Superhydrophobic Nanofiber Research
FiYi Adebekun, Anthony Brigidi, Engy Khoshit, Bryan Moed, Jared O'Neill, TJ Schmidt and Alex Vuong
Advisor: Michael Boyer
PSGC Overview
Students in the EPICS club (Engineering Projects in Community Service) at North Penn High School are currently working with students and professors from Montgomery County Community College as part of the Pennsylvania Space Grant Consortium (PSGC).
The primary focus is to offer North Penn High School students opportunities to engage in meaningful STEM (Science, Technology, Engineering and Mathematics) research endeavors. The initial research endeavor will be focused on the development of hydrophobic polymer nanofiber membranes for the protection of electronics in land, air, sea and space. This project will enhance teaching and learning for NPSD students by offering them opportunities to research and experience the same research topics that graduate, doctoral and industry researchers are performing.
About the PSGC
The Pennsylvania Space Grant Consortium (PSGC) was established in 1989 as a component of NASA's National Space Grant College and Fellowship Program. The PSGC is comprised of fourteen public and private universities and colleges working together with industry and precollege partners to increase Pennsylvania's participation in the economic, educational, and scientific benefits of our nation's space program.

The PSGC is part of a national network of 52 state-wide Consortia. The Space Grant mission is to expand opportunities for Americans to learn about and participate in NASA's aeronautics and space programs by supporting and enhancing science and engineering education, research, and outreach programs.

Hydrophobic Nanofiber Research: Polymer Preparation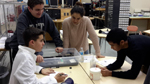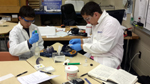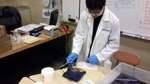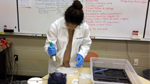 Hydrophobic Nanofiber Research: Electrospinning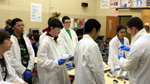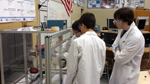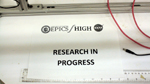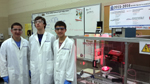 Hydrophobic Nanofiber Research: Characterization